A post over a month in the making. Frankly I get burnt out after Bianchi, the seriousness of a major match combined with the heat of summer wears me out. But with the Texas State Steel Challenge Championships coming up it is time to get back in the game. Thus in this post I have updates for three matches that I've shot recently.
August 2013 Steel Challenge Match
It is amazing that I come back from Bianchi fastest than I've ever shot before. I set personal stage and string records for all but Roundabout.
Roundabout – 16.88 – Best String: 3.80
Speed Option – 18.82 – Best String: 4.37
Accelerator – 19.26 – Best String: 4.19
Five to Go – 21.38 – Best String: 4.91
September 2013 Steel Challenge Match
Not as good as last month, but I got some descent times. Honestly the misses are plaguing me. Something I need to work on before Texas state.
September 2013 Real Steel Match
I shot this match since I will be missing Octobers Steel Challenge match due to attending a Bob Vogel class. This match is a local outlaw steel challenge type match. This one takes the rules even further, adding start plates, limited shot count stages, overlaying plates on top of one another, and even adding a Texas star.
Stage 5 – Pretty straight forward stage, like steel challenge the red stems indicate the stop plate.
Stage 1 – Another straight forward stage
Stage 2 – The two outer square plates are start plates you have to hit them first, before moving on to the other plates.
Stage 3 – This looks like a straight forward stage, but the stop plate is layered over the other normal plate, which can cause you to hit it prematurely, like I did in string 2.
Stage 4 – Probably the most complex stage of the match, each popper is a start plate for each of your five strings. Also the stage was limited to 5 shot per each string, and that is on top of the 18x24s being layered on top of one another.
Stage 6 – Each of the knock down plates is a start plate, with the standard star. This was a single string stage
This was my first match out with my GoPro HD Hero 3 Black Edition. I need to work on the editing settings, but overall I like this camera.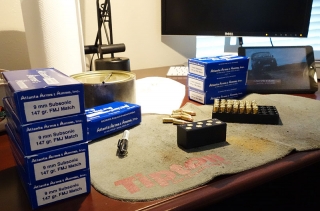 Anyways as these were the last matches for me before Texas state, all I have left is practice sessions, and the usual prematch maintenance. Such as chamber checking all my match ammo, now all of the four hundred rounds that I will be taking to Corpus are checked. In the next couple of weeks I will clean my magazines, and clean my gun.