With the last shot fired at the Bianchi Cup marks the end of my major match shooting season, with exception of the Monster Match I have no major matches scheduled until next year. All though I enjoyed shooting the Bianchi Cup, I am disappointed with my mental errors, I practiced quite a lot on my weak areas, and though I felt I addressed them some what my score didn't reflect that. But even saying that, at the Bianchi Cup I got a better score than last year, and I was within a point of my score at Flagler Cup.
Falling Plate Event
Flagler Cup 400 – 40x
Bianchi Cup 400 – 40x
This year is the first year that I went prone at 25 yards, I managed to get 9 plates at 25 yards during both matches, which is a much more consistent score than in the past, with a little work I think I can bring that up to clearing both runs fairly regularly. Unfortunately due to mental errors I dropped plates at shorter distances (including getting fragged at 10 yards during Flagler). I am also considering going prone at 20 yards, but that is something that I need to test on a shot timer.
Practical Event

Flagler Cup 443 – 14x
Bianchi Cup 413 – 18x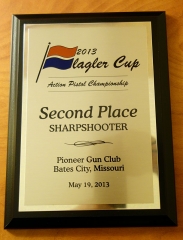 This event I made some major improvements, my Flagler Cup score is the highest practical score that I've gotten yet; and my Bianchi Cup score, though not stellar, is my second highest. I did this by working on eliminating my issues at 50 yards with dropping shots below the target, I also worked on my weak hand only string. Though I have some work to do to bring the score up even higher, this is one of the few parts of the match that I truly happy with how it turned out. Other than the usual tightening up the groups, the major thing I need to work on is weak hand only, though I am pretty sure that I got 8s or greater on most of those six shots, at that distance I really should be getting all 10s.
Moving Target Event

Flagler Cup 420 – 9x
Bianchi Cup 435 – 15x
Nothing to really report here, I did descent though not as well as last year. I think I need to spend some time working each distance, putting together more exact holds for leading the target.
Barricade Event
Flagler Cup 391 – 14x
Bianchi Cup 400 – 6x
This is probably my weakest event, I have a lot of work to do on this event to get it under control. Unlike the plates I am not quite sure exactly what is wrong. My best guess is that I am not letting my sights settle between shoots by shooting too fast. Using something to support myself with shooting isn't something that I normally do. I guess I simply need to practice it.
Totals
Flagler Cup 1654 -77x
Bianchi Cup – 1648 – 79x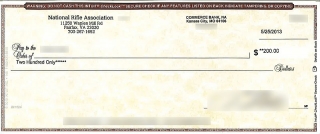 At Flagler I got third production, and second sharpshooter overall, winning me $50 and a plaque. At Bianchi I got 23rd production and third production sharpshooter, winning me $200. I am continuing the tradition of donating a dollar for every X-ring I shoot at Bianchi, along with 10% of any cash prizes from that match. So I will be donating $99 to the American Cancer Society, the better I do, the more money they get. It is win – win for both parties. I also achieved one of my shooting goals, I didn't get a single mike on the AP-1 targets throughout the entire Bianchi Cup, so that goal has been revised to make it harder as noted by a earlier post.
Equipment
Gun: Springfield XDM 9 5.25″ Competition – It is funny that this is the gun that I like the least, but it has won me the most money. Since I keep the magazines cleans it has been very reliable, and accurate. Beyond that there is nothing really to report as I've made no changes this year.
Holster: Comp-tac The International DOH Holster – I changed to this holster sometime late last year, it really works well. About the only issue I've had with it is sometimes not pulling the gun straight out. Also there was the pointy thing that I mentioned in my initial impressions review of the holster, but a few minutes with a Dremel took care of that. Anyways I highly recommend it.
Mag Pouch: Safariland Magnetic Competition Magazines Pouch – I've wanted this pouch since last Bianchi Cup when Rob Leatham showed me the prototype (which as a side note he neglected to mention that it was a prototype), Safariland finally released it. Through a little trading I was able to get one at the Bianchi Cup. I will have a more in depth review in the future, but I love this pouch.
Ammo: Atlanta Arms & Ammo 115gr Match/Practice Match – Thanks to the ammo panic it was very very hard to get the ammo I needed to shoot the matches. I was literally scrapping together every spare round to shoot my major matches. But beyond that the Atlanta Arms performed to expectations, chronoing well above power factor for both match lots that I was using. While having zero issues with the 1,705 rounds I fired. I also brought another 400 rounds of Federal white box range ammo, that I used to supplement my Atlanta Arms ammo, by shooting it during the shorter strings.
Changes for the next Bianchi Cup
Other than the issues I noted above, one thing that I am going to do to bring things together is to practice by shooting group periodically. I hate shooting groups, but I think if I can buckle down with the fundamentals, that is the only way that I am going to tighten things up. I also need to work on developing a more evened pace through out my shooting. Watch someone like Rob shoot the match, and his pace between shots is practically the same since he lets his sights decide when he lets the shot off.
Equipment wise, I don't see too many changes. Unlike last year I am going to work on the assumption that my M&Ps will not be back from Apex. If my M&Ps come in before I go to Florida for the Monster Match great, but I can't rely on that happening. But other than doing a recoil spring replacement and a deep clean of the my current XDM I am probably not going to do much to the gun. Now one thing I will be changing is my ammo supply, I am going to switch to Zero Ammunition. I am not switching because I don't have confidence in Atlanta Arms & Ammo, in fact quite the opposite I love their ammo and they've been good to me. But Zero allows me the option of placing an order today, with delivery at Bianchi next year, that way I am not running around like a headless chicken a few weeks before the match.
That about wraps things up, I will have the occasional local match report, along with range logs but it will be fairly quiet until next year.
Score sheets
Flagler Cup

Bianchi Cup
My plate score sheet went missing so here are the hits by distance and string
10 Yards 5 – 6
15 Yards 6 – 5
20 Yards 5 – 4
25 Yards 5 – 4