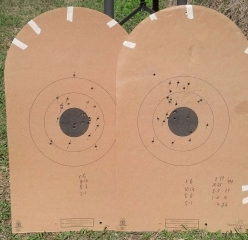 Well a bit of an update, I had a bit of burn out combined with bad weather I haven't made it to the range much. Also with the ammo crunch I am conserving my pistol ammo since I have just barely enough for all the matches I need to shoot for the next three months. So probably no local matches, and limited practice on the things that I really need help on.
Today I spent some time with my M&P 15-22 on the rimfire range. And then went to the pistol range to work on shooting from prone. During my last few matches I have been throwing too many shots from prone at 50 yards. The range doesn't support 50 yards, so I did it from the maximum range of 35 yards. It went very well, nothing off the target, and a final score of (though not even remotely comparable to a stage score) of 472-14x out of a possible 500-50x.
Anyways I've been sitting on this, but here is the video from the December Steel Challenge Match at BAPS.
IIRC I did some game stage times, but they weren't the fastest single run times.