Probably thought I completely forgot about shooting since I haven't posted anything shoot related since late last year. I haven't stopped shooting, simply haven't had time to get any new posts done.
US Steel Nationals 2014
I spent a week and almost 5,000 rounds in Florida shooting. I first spent two days with Shannon Smith of Universal Shooting Academy, during this session we established realistic goal times for all the stages. I then spent the remainder of the week leading up to Saturday practicing. The match was fun I didn't do as well as I was hoping, but I still walked away with 6th production which is 4 positions higher than last year. One bright spot, is though I was within a second of my time at the Texas State match, I only had 17 make up shots which is much much less than I did at Texas State.
Stage wise, I only set a personal best stage time during Smoke and Hope; and Roundabout both of the hoser stages. On the other hand even though my stage times were worse on other stages like Five to Go my times were more consistent. Since I know that I had shoot these stages faster, I just need to do it more consistently since my previous way of doing it often results in me crashing and burning. Now two things I noticed that I really need to work on is to reacting to the buzzer faster and prepping the trigger. I really need to get my hands moving at the first sound of the buzzer rather than waiting for the buzzer to complete. Also I noticed from watching the video (you didn't think I did the video because it is cool?) that I was resetting the trigger after I got to the next target, I really need to do that between targets.
 Equipment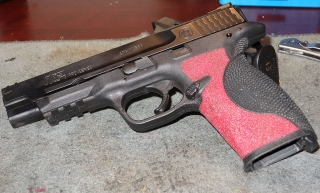 Smith and Wesson M&P 9 Pro 5″ – This was the first time that I've had a parts breakage at a major match. During practice on Thursday the left side slide lock lever broke off. It wasn't a major issue since you are doing reloads in Steel Challenge, so I trucked on with my current gun rather than breaking out the back up. The only thing I had to do because of it, was use an empty magazine to lock the slide back. I called S&W and they said it was a factory only part so I would have to send the gun in to get a free replacement. I just bought a couple, and will be doing the replacement myself during the next spring replacement cycle.
Now I did have three stoppages, all three were with Freedom Munitions Remanufactured 9mm, and all three sounded like a squib with a stove pipe failure to eject. I had no issues with the Atlanta Arms and Ammo 9mm reloaded match ammo.
Safariland ELS Belt System – This was my first major match with the Safariland ELS belt. Overall I like the stiffness of the belt along with the convenience. Every time I put it on the mag pouches and holster are all in the same position. When I am eating lunch I can quickly slip off my QLS attached holster, and my ELS attached mag pouches. If I am going into town for lunch, I can simply take off the outer belt. And then there is the fact that even though the mounting platforms don't change, I can easily change the exact attachments for the division that I am shooting. So for this match I had my Comp-tac International Holster for the M&P, and the Safariland 773 magnetic mag pouch. For Bianchi it will be the XDM version of the Comp-tac holster. For USPSA I will change the mag pouches. The list goes on.
Now I did have one issue with the belt system, somewhere during the week I lost one of the pegs that holds the belt together. I noticed it on Friday, and I didn't have a back up belt so I had to keep on trucking (Safariland has said that a replacement peg is on the way). I also say people that didn't secure their belt well lose the belt during stages like Outer Limits. I can see why Shannon Smith uses police style belt keepers with his competition belt system. If I have any issues I will likely be doing the same.
Scoresheets
Bianchi Cup and Other Pistol Matches
I picked up my second XD(M) 9 5.25″ that I will be using as a back up gun for these season's NRA Action Pistol matches and any in the future. It took a few hours but I got it configured the same way as my other XD(M), now I am just waiting on the backup holster from Comp-tac. Anyways I am signed up for the Crawfish Cup, World Action Pistol Championship, and the Bianchi Cup. I got my squading for Bianchi Cup, I request and got the same shooter number as my last two years, and I got all afternoon slots. I am definitely looking forward to shoot the new mover in Columbia, as they've upgraded it to an Action Target tracked mover. I am currently working on getting an extra day at the SWLA Rifle and Pistol Club range to practice the stages a little more.
Anyways on to the second half of my season, due to the World IPSC Championship being at USA this year, the Monster Match is cancelled. Since I enjoy shooting Shannon's matches I've signed up for the US IPSC Nationals, which will be the same stages just a week or two after the world match. Should be a fun match, and since I am going to be shooting classic division this will be first time shooting a major match with a 1911. I need to get some stuff hammered out to get my STI Trojan ready for the match.
I was hoping that the USPSA would move the World Speed Shooting Championship to fall at USA, but that didn't quite work out. The date for the Texas State Steel Challenge Championship hasn't been announced yet, but I am hoping that it will work out so I can shoot it in addition to the US IPSC Nationals. Either way, I am seriously thinking about going to the Georgia State Steel Challenge Championship next year.