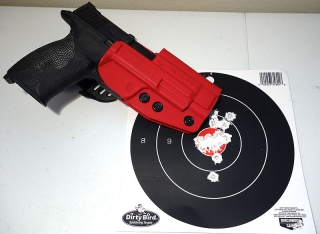 Well a little late, but what with all the canceled matches lately I hit the local indoor range. I worked mostly on distance accuracy as you can see by the picture. But first I did some practice with my P229R 2-step working on the same thing.
Total Rounds fired:
M&P 9 Pro – 100rds
Sig P290 – 100rds
Sig P229R – 100rds 22LR
Now during the session I had my first non-user caused stoppage of my P290, I had a failure to feed. I can't discount that it was caused by ammo, as it was a mixed case dumped case of ammo with everything from GA Arms reloads, and a variety of factory 9mm loads. I will watch the gun and see if this happens again.